During the second Innovation Lab, the EEEMERGING+ ensembles and partners talked about the audience of classical music during a very inspiring video call.
In a previous article, we told you about this new cooperation process we have within the EEEMERGING+ programme: the Innovation Labs. Open to the EEEMERGING+ ensembles and partners, these conversations allow us to have an open space for reflection and collective development of ideas.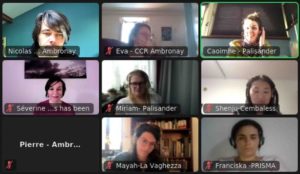 From live concerts to streaming, from the radio to video games… The ways we listen to classical music are becoming increasingly diverse and complementary. We wanted to talk about this topic in order to find innovative and creative ways to interact with the public, and make early music accessible to a wider audience.   As usual, guests were invited to participate in this exchange. Tamar Brüggemann, the managing and artistic director of Wonderfeel festival, and Séverine Garnier, the director and editor in chief of Classique mais pas has been, talked about the audience of classical music and how it is evolving nowadays. On a more personal level, they shared what place music has in their lives, and what kind of emotions the audience is looking for when listening to classical music. In their field of expertise, they contribute to changing the way we usually approach classical music.
They allowed the ensembles to think about the kind of listening experiences they want to promote.   At the end of theses exchanges, the ensembles wanted to work on more interactive forms of concerts, in order to connect with their audience in a warmer and more authentic way, and reenforce social bounding through music.
At the end of this time of questioning, the ensembles will be invited to propose some projects in order to engage in new ways of interacting with their audience. The EEEMERGING+ programme and its partners will be there to support the ensembles with these projects!