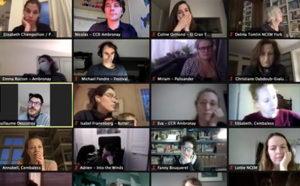 This cooperation process was created in response to the pandemic, which has a profound and undoubtedly lasting impact on social and cultural life in Europe. Therefore, from February to May, the EEEMERGING+ ensembles and partners gather online once a month, in order to imagine new forms of relationship with the audience.
The Innovation Labs' aim is to think together about the societal challenges, with four areas of interest defined collectively :
Musical practices in the digital era

The audience of music
Artists in the community
New organisational models

Through sharing knowledge and artistical experimentation, we want to reenforce the social bounding through music!
The first Innovation Labs on February 25 dealt with the digitalization of musical practices. What does it change, and what are the issues at stake for artists? To tackle this topic, we invited a guest speaker : Guillaume Descottes, CEO of Vialma. The one who founded one of Europe's leading streaming platform in classical and jazz music shared with us his experience and knowledge about the topic.
At the end of this time of questioning, the ensembles will be invited to propose some projects in order to engage in new ways of interacting with their audience. The EEEMERGING+ programme and its partners will be there to support the ensembles with these projects!
From September 2021, projects will be introduced to the public, and some will start their implementation!