La Vaghezza's very first CD, published on the Ambronay Éditions label, is now out everywhere.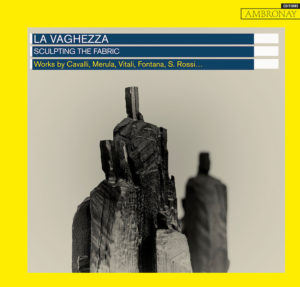 La Vaghezza, as part of the EEEMERGING+ programme since 2017, recorded their first album for the Ambronay Editions label. With works from the 17th and early 18th Centuries by Cavalli, Merula or Vitali; the artists play on 'Sculpting the Fabric' their favorite repertoire.
When listening to their album, you will discover that their musical interpretations are guided by their search for 'La Vaghezza': an aesthetic concept which describes a beauty impossible to understand or grasp.
Discover an extract from the album, Tarquinio Merula's Ballo detto Gennaro:
Sculpting the Fabric is available since the 26th of March in stores, on streaming platforms, as well as online order. You will juste have to click on the green button 'Acheter le disque'.

---
Ignacio Ramal, Mayah Kadish violins
Gianluca Geremia lute
Anastasia Baraviera cello
Marco Crosetto harpsichord
Discover the EEEMERGING+ CD collection of Ambronay Editions by clicking here !