This year, the Festival of Ambronay – Centre culturel de rencontre had to adapt itself to the current sanitary situation. Sadly, the EEEMERGING+ Festival couldn't take place there as it should have.
However, the Ambronay Festival was glad to welcome 3 EEEMERGING+ ensembles !
This years's Festival called "Explorations" lasted 3 weeks, from the 18th of September to the 4th of October, and each ensemble was invited on a different one.
Week-end 1: Cantoría
Cantoría, EEEmerging+ ensemble since 2018, opened the Festival by giving beautiful concerts in Ambronay's abbey. They got to sing for the European Heritage Days, during a very special visit of the abbey. The visitors discovered the place with their eyes, but also their ears! They also performed an exclusive concert for the sponsors of the Centre Culturel of Ambronay.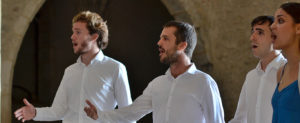 Week-end 2: Sarbacanes
On the second week-end, Sarbacanes gave some rythm to the day by giving musical aubades. The ensemble also took part in cultural actions led by the Centre Culturel, by meeting and exchanging with people from Ambronay and its surroundings. They gave concerts in schools but also to elderly people.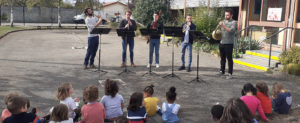 Week-end 3: Into The Winds
Last but not least, Into The Winds made the public of the festival travel from the Renaissance to the 18th century. They gave musical aubades during the day, but also took part in cultural actions around the village of Ambronay. For that purpose, they prepared a specific program that they gave in schools in order to introduce early music to a younger audience.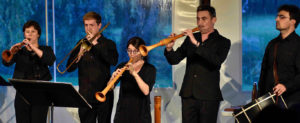 Despite the situation, the Ambronay Festival was glad to be able to welcome 3 EEEMERGING+ ensembles to its yearly festival, and cannot wait to host an EEEMERGING+ Festival in 2021 !