Prisma
PRISMA is an ensemble of four young musicians who get together to play the particularly expressive, wacky, and colourful music of the XVI and XVII centuries.
PRISMA is formed of four students from the German conservatoires of Bremen and Hanover.
In May 2015, PRISMA won the first Prize at the International Heinrich Ignaz Franz Biber Competition in Austria. Following this, they have been invited to give concerts at the Biber Festival in Vienna, the Reihe Historischer Musik der Händel-Festspiele Göttingen, and on air with the Westdeutscher Rundfunk and Ö1 – Österreichischer Rundfunk.
PRISMA is part of the eeemerging programme since 2016. The ensemble has therefore benefited from residencies at the Ambronay Cultural Encounter Centre and at the Riga Early Music Centre (Latvia). The ensemble also took part in the eeemerging Festival during the Ambronay Festival on the 8 October 2016. PRIMSA released the CD The Seasons on the Ambronay Editions label in November 2018, and Il transilvano in November 2020.
PRISMA is still supported by the EEEMERGING+ programme in 2020 and has been chosen to release a new CD within the EEEMERGING+ collection of Ambronay Editions label: Il transilvano is now available.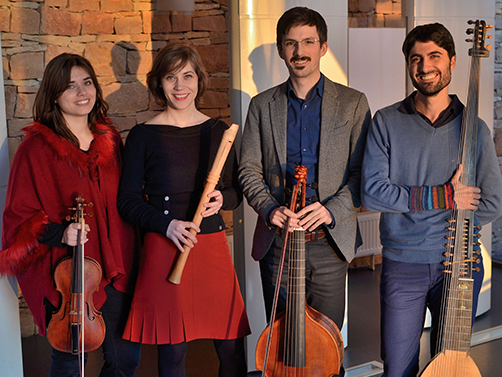 Distribution
Franciska Hajdu Violin
Elisabeth Champollion Recorder
David Budai Viola da gamba
Alon Sariel Lute
In the press
"EXCEPTIONAL. EXCITING. NOT CATEGORIZABLE. AND INCREDIBLY GOOD."  – Kreiszeitung Wesermarsch, 27.10.2018