During this Innovation Lab about 'Artists in the community', we wanted to talk about how the artists contribute to the vitality and development of local communities. In the particular situation we are experiencing, it seems even more important to discuss the 'use' of music in a therapeutic way.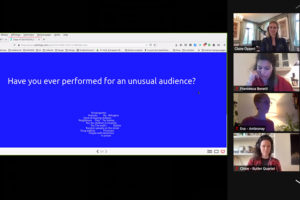 As a cellist and music therapist, Claire Oppert has a unique approach to music as well as its audiences. She shared her professional experience has a musician that, for over twenty-five years, has been confronted to illness, physical pain, autism, dementia, and the end of life. Thanks to her work, it has been proven that music can actually decrease pain. She talked with great passion about sensations, feelings, and her own past experiences. 
A different approach that widens our perspective on music.
Claire Oppert says that the power of music relies in the way it reaches our soul before reaching our reason. However, she insists that her subject is not sad at all. In fact, this job is surprising and has no rule: we could think that at the end of someone's life, the patients would like to ear something calm, but she once played metal with the cello because a patient asked her to! 
Through sharing knowledge and artistical experimentation, Claire Oppert inspired the EEEMERGING+ ensembles to reenforce social bounding through music with their audiences. Even if they do not become music therapists themselves, knowing that music can be effective that way changes the way we approach it.
At the end of this time of questioning, the ensembles will be invited to propose some projects in order to engage in new ways of interacting with their audience. The EEEMERGING+ programme and its partners will be there to support the ensembles with these projects!