Reinvested in art history, the term Apotropaïk is associated with the function of the gargoyles of our Gothic cathedrals: a warding off bad luck outside the sanctuaries. It invites us to turn away from false misconceptions in order to serve a music which, despite the distance, still appears to us today in all its modernity and its initial freshness.
Born at the Convervatoire CNSMD de Lyon, the ensemble associates a work of research and deep comprehension of the resources, and a great attention to creativity and emotion. Its members met for the first time in November 2015 for the celebrations of the France-Korea Year under the supervision of the Institut français. This milestone event led to the founding of the ensemble in 2016, a prelude to regular invitations to the concert-meeting season of the Paris Medieval Music Center at the Cluny Museum. ApotropaïK has also performed in various renowned festivals and institutions in France and Europe such as Mars en Baroque (Marseille-FR), the MAfestival (Brugge-BE), the Gröpelinger Barock Festival (Bremen-DE), the Sablé Festival (Sablé-sur-Sarthe), the York Early Music Festival (UK); at the Cité de la Voix (Vézelay), La Courroie (Entraigues-sur-la-Sorgue), the Royaumont Foundation, etc.
In November 2017, ApotropaïK won the 1st prize at the 2nd International Competition for Ancient Music Days in Vanves. This success was repeated in 2019 at the Young Talents Competition of the Sinfonia en Périgord festival, as well as in 2022 at the York Early Music International Young Artists Competition where the ensemble was awarded three prizes (Friends of York Early Music Festival Prize, Cambridge Early Music Prize, Emerging+ Prize).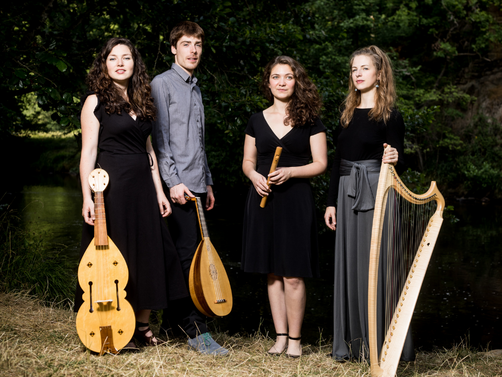 Distribution
Clémence Niclas Voice and recorder
Louise Bouedo Vielle
Marie-Domitille Murez Gothic Harp
Clément Stagnol Medieval Lute