The quartet is determined to connect with its public in concerts, and also strives to open their programmes to contemporary repertoire.
The four musicians from Catalonia, Germany and Italy met during the years they spent studying at the Hochschule für Musik und Theater München.
In 2019, the ensemble won a fellowship of the German Music Competition and the special prize of the Marie-Luise Imbusch Stiftung Lübeck. At the International Händel Competition, they were awarded the main prize, as well as the the Audience and the Bärenreiter Urtext Prize. The Ensemble Caladrius has been featured on radio productions by NDR Kultur, Bayerischer Rundfunk and Deutschlandfunk.
The caladrius is shown as a snow-white bird with healing powers in medieval bestiaries, a compendium of fantastic beasts. The group hopes that their music will have a vitalizing effect on their public similar to that of the caladrius.
Thanks to their support by the EEEMERGING+ program, they were invited to perform in international festivals such as the Riga Early Music Center in Latvia, the Collegio Ghislieri in Italy, and the Festival of Ambronay in France. They will also benefit from a residency in Ambronay in October 2021.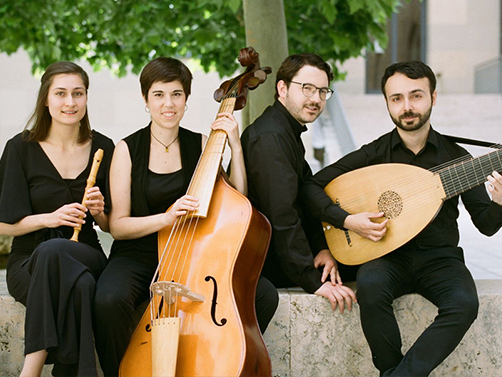 Distribution
Sophia Schambeck recorders
Mariona Mateu Carles violone
Jacopo Sabina theorbo, lute and baroque guitar
Georg Staudacher organ and harpsichord