Sarbacanes
Sarbacanes is an ensemble focusing on the 18th century music featuring wind players.
Originally founded as a quartet consisting of two oboes, a bassoon and a harpsichord, the ensemble now includes several combinations of players in order to perform repertoires from trio sonatas to large ensemble serenades of the classical era.
In 2018 they decided to create a classical wind octet : Sarbacane's Wind Octet Project– SWOP! – which has been selected in the EEEMERGING+ program. SWOP is aiming to promote the very rich repertoire of "Harmoniemusik", written for the numerous Courts of the Habsbourg Empire around 1800. It includes concert pieces, many transcriptions of successful operas of the time, and all kind of entertainment pieces (Divertimenti, Nachtmusik, Tafelmusik).
The other projects nowadays running reflect the diversity of the ensemble activities: CD recording of Telemann Ouvertures with hunting horns (label INITIALE), Zelenka sonatas (Venice, Cini Foundation), transcriptions of François Couperin's works (Royaumont Foundation) Bach's sacred dialogues with soprano and bass singer (together with Caroline Arnaud and Renaud Bres).
Sarbacanes is in residency at the Fondation Singer-Polignac.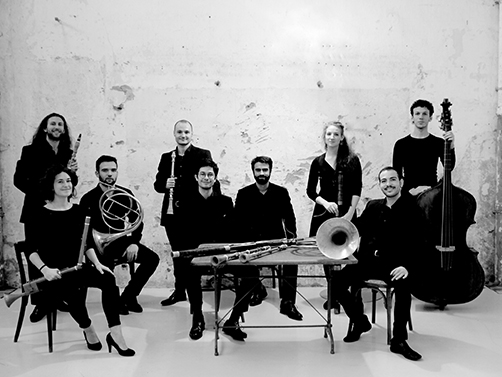 Distribution
Neven Lesage Oboe
Gabriel Pidoux Oboe
Arthur Bolorinos Clarinet
Roberta Cristini Clarinet
Alejandro Perez Bassoon
Florian Gazagne Bassoon
Alessandro Orlando Natural horn
Félix Roth Natural horn
Hugo Abraham Double Bass