Cantoría
Freshness, expressiveness and proximity have become the distinctive features of Cantoría, a vocal group specialising in the performance of Iberian Renaissance polyphony, directed by Jorge Losana. Its aim is to revalue and find new ways of approaching the Renaissance and Baroque repertoire in order to bring it closer to today's audiences.
Formed in the first edition of the ECOS Festival de Música Antigua de Sierra Espuña during the summer of 2016, Cantoría developed at the ESMUC – Escola Superior de Música de Catalunya.  Its international trajectory began with a participation in the International Young Artist's Presentation in Antwerp (2017), the Fringe editions of Utrecht and Brugge festivals and a residency at Les Quotidiennes de La Cité de la Voix de Vézelay (2018).
In 2018, their selection for the EEEMERGING+ project, where they won the Audience Prize at the Festival d'Ambronay, marked a turning point in the group's career and international projection, offering them the opportunity to carry out artistic residencies at festivals such as the National Center of Early Music in York, Centro de Musica Antica Ghislieri in Pavia, Händel-Festspiele in Göttingen, National Forum of Music in Wroclaw, Riga Early Music Centre or the Torroella de Montgrí Festival, as well as participating as guest artists in the Ambronay EEEMERGING+ Academy (2021), directed by Geoffroy Jourdain.
Cantoría develops projects for the dissemination of Renaissance music, including collaborations with the University of Murcia and the Universitat Pompeu Fabra in Barcelona for the development of projects such as the More Hispano digital choir or participatory concerts, as well as the enhancement of El Manuscrito de Totana in collaboration with the CSIC (Consejo Superior de Investigaciones Cientícas), which was presented at the Early Music Day 2021 of REMA, the European Early Music Network. Cantoría also organises the annual ECOS Festival of Sierra Espuña and collaborates in activities related to the demographic challenge, diversity and sustainability.
Cantoría was selected for the EEEmerging program in 2018, and became an Experienced EEEMERGING+ ensemble in 2022.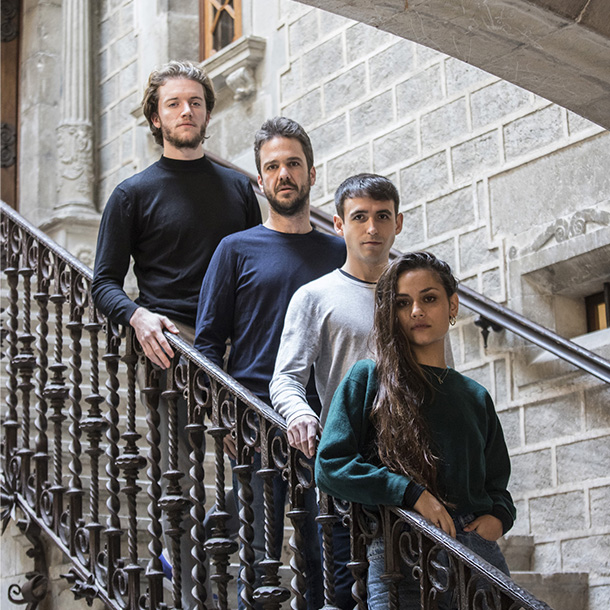 Distribution
Jorge Losana Tenor and conductor
Inés Alonso Soprano
Valentín Miralles Bass
Oriol Guimera Alto